In lieu of an in-person Day of Dancer Health event, this fall Dance Source Houston is launching the Dancer Wellness Series in collaboration with Memorial Hermann Ironman Sports Medicine Institute, The Actors Fund, Live Mindfully Psychotherapy, and other partners.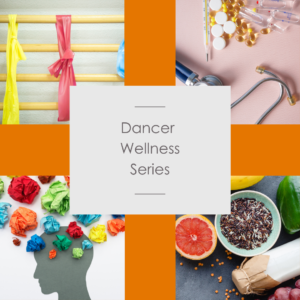 The series will feature workshops led by medical professionals on nutrition, injury prevention, mental health and other topics, as well as breath, meditation, and movement classes led by artists from a mind-body perspective.
---
Upcoming Workshops
Mental Health & The Pandemic –

January 8 – 9:30am CT –

View the recording
Feeling stressed, anxious, and burned out? Everyone is feeling exhausted, but dancers and artists are among the people who are struggling the most with the effects of the pandemic. Learn immediate strategies for coping with anxiety, preventing panic, and practicing self-care.
Kelsey Fyffe is a licensed professional counselor and therapist for the Houston Ballet Academy. She specializes in helping high achieving, perfectionistic people cope with anxiety, stop self-critical thoughts, and form better relationships with themselves and the people around them. Kelsey holds a master's degree in clinical psychology and has a special interest in working with dancers and athletes who want to prioritize both their physical health and emotional wellness. Learn more about Kelsey and Live Mindfully Psychotherapy at livemindfullypsychotherapy.com.
#WellnessWednesday with Felicia Thomas –

View the recording
This class will focus on Hatha yoga movements and cleansing breaths from Kemetic yoga to cultivate a restorative experience.
Felicia Thomas is a dance artist, educator, choreographer, and yoga teacher from Houston, Texas.  She has presented work centering black women with Pretty Cultured, a dance collaborative founded in 2012.  As well, Felicia has presented her works, "Love Spell", "Tender", and "Adura" to the Houston community using her space to explore black spirituality and love.  Felicia continues to use her space to share and affirm black joy, explore and deconstruct, and to reclaim.
---
#WellnessWednesday with Jacquelyne Boe –

Recording coming soon!
Dance inspired movement class: Stretch, strengthen, & move. Learn to be more comfortable moving in your body with this a functional movement session that will include stretching, straightening and movement exercises in a positive environment. This class is made to accommodate all ages and levels of movers, it will leave your body feeling open and ready for the day.
Jacquelyne is Houston based professional choreographer, dancer, and educator interested in collaboration. Jacquelyne teaches a wide range of technical levels and ages for organizations such as Frame Dance, The Hope Project and the Houston Ballet. She is currently a company member of Erick Hawkins Dance, Frame Dance, and Hopestone Dance. Boe has also worked with organizations and individual artists such as Houston Grand Opera, Sean Curran, and Rob Ashford. She is a 2019-2021 Lawndale Studio Artist Program recipient and has been commissioned by the Society for the Performing Arts for a virtual live performance this Fall. Connect with Jacquelyne @jackiejayboe and jjboe.com
---
In this class we will explore the body's alignment, as well as new ways of developing natural movement patterns to enhance clarity and awareness within the body. We will also focus on movement guided by breath and sound, to allow freedom and openness within the body's exploration. If you are interested in connecting deeper to the body as it bends, folds, expands, twist, suspends, rolls, skips and hops, as well as getting down to fun, experimental, and funky tunes, come and join me for a moment of expression and release within the human body.
Born and raised in Houston, TX, Ty Lewis is an independent performing artist, choreographer, teacher and activist. Her interest in movement came at a young age, with her willingness to perform for her family and friends without hesitation. Ty's professional training began in college, where she studied dance at San Jacinto College and Sam Houston State University, receiving her A.A and B.F.A in dance. She has also had the opportunity to continue her training at many dance intensives, workshops, and festivals both nationally and internationally and has created and presented works locally in Houston from 2016-2020. Within her professional career as movement artist, she strives to create work that is honest and true to her own experiences. She wishes to continue to share her voice within her choreography, teaching, and performances, in hopes of influencing movement as a source of expression, creativity, kinesthetic intelligence, and healing through physical practice.
---
#WellnessWednesday with Lisa Harris –

View the recording
Li Harris will be leading a guided meditation and workshop around breath and movement with the themes of engaging in stillness, contentment, and replenishing gratitude. Participants can expect to tap into full body listening and a deeper communication with the inner self.
---
#WellnessWednesday with Lizzy Tan –

Recording coming soon!
'Moving from/through/to Love' is an introduction to Lizzy's creative practice, and draws upon feminist literatures and restorative movement. All are welcome to join for a relaxing, self-affirming and meditative flow, which is guided verbally through language, imagery and improvisational prompts that centre on moving from, through and to places of love within the body and in real-world actions. Classes are intended for those 14+ in all levels and backgrounds.
Lizzy Tan is a Singaporean-American dance artist and social scientist. Her current artistic research is on the philosophy of image and the representation of the female performing body, explored through visual art, photography, movement, and film. Lizzy received her BFA in Dance and BA in Economics with Special Honours from the University of Texas at Austin. She also holds an MSc from the London School of Economics and Political Science. More about Lizzy's choreography and performance work at lizzytan.com.
---
#WellnessWednesday with Roberta Paixao Cortes – November 18 – 

Recording coming soon!
In this virtual class we will ground ourselves down through a short meditation followed by a space for connection, questions, check in and a physical power yoga practice. In the practice, will flow through a sequence of poses called Journey into Power, designed to generate heat and movement within your body. Come ready to sweat, move your body, and put your attention on yourself and your breath! All levels are welcome and no prior yoga experience is required. You will need a yoga mat or a non slip soft surface, a towel and water for class. It is recommended that you have your video on for the class as well as your screen in gallery view mode.
Roberta is originally from Brazil, where she studied classical ballet. As a professional dancer, she was always looking for ways to stretch and work out her body, and that is how she was introduced to yoga in 2005. Since then, Roberta went on to get her RYT200 at YogaOne Houston in 2012 and got encouraged by her teacher, Roger Rippy to do level one training with Baron Baptiste in February 2014. The program made such a big impact in Roberta's life that in the same year she completed level two training with Paige Elenson, and level three training with Baron, as well as started her certification process to become a certified Baptiste teacher! Roberta is a E-RYT500, Tier 2 certified Baptiste Yoga teacher currently in the FIT to Lead program, an ambassador for Africa Yoga Project, a professional contemporary dancer, and the co-director and co-founder of the arts nonprofit Group Acorde. She has over 8 years of experience teaching in studio yoga as well as years of experience mentoring new and seasoned teachers. She learns every day from her teachers, students and from herself, and is really grateful for the power of yoga in her life and the opportunity to share that with others. Roberta's classes are challenging, focus on breath, alignment, and honoring each student's experience and needs. She currently teaches virtually for MBody Yoga in Florida, Be Yoga and Dance in Staten Island and on her own virtual room at https://linktr.ee/robertapaixaocortes 
---
The goal of the presentation is to provide sound and practical nutrition information tailored to dance artists. Topics covered will include basic nutrition information, fueling around training and class, as well as the potential consequences of under-fueling. Presented by Christina Curry King MS, RD, CSSD, LD.
Christina is a registered and licensed dietitian and a board-certified specialist in sports dietetics with the Memorial Hermann Ironman Sports Medicine Institute. She earned her bachelor's degree in biology at Furman University where she was also a division one volleyball player and her master's degree in nutrition from Texas A&M University. Previously, she has worked with collegiate athletes at the University of Houston, and post-collegiate athletes preparing for the NFL at St. Vincent Sports Performance in Indianapolis, IN. Currently, through Memorial Hermann, she serves as the team dietitian for the Houston Dash of the NWSL, and lead dietitian for Houston Baptist University Athletics. She also consults with Katy Tompkins and Memorial High School athletics programs and counsels a variety of clients in a one-on-one setting in clinic. Outside of the clinic and her team responsibilities, she is an adjunct professor of sports nutrition in the Kinesiology department at Houston Baptist University.
---
Foot and Ankle Injury Prevention Workshop –

Recording coming soon!
A review of common foot and ankle injuries in dance and strategies for pain management, prevention, and strengthening.
Hallie Ward was born and raised in Houston, Texas. She received her BFA in Dance from the University of Texas at Austin, after which she taught and danced professionally. She returned to Houston to complete her Doctorate in Physical Therapy at Texas Woman's University. Hallie has a passion for working with athletes of all ages and abilities, especially in the areas of dance and combat sports.