Do you have an upcoming choreographic project? Do you want dancers, time and space to explore your movement ideas? Apply to receive a mini-residency through the HIVE, a collaboration of Dance Source Houston and Houston Ballet.
The selected choreographer will receive space at Houston Ballet's Center for Dance on 4 Sundays in March-April 2020 from 1-4pm to delve into a work in progress. The first Sunday, March 29, will function as a choreography lab that is open to the dance community. Dancers will sign up to take part in the session and the choreographer will offer participants a glimpse into their process of developing work during the 3 hour workshop. The 3 remaining Sundays, April 5, 19 & 26, will be closed to the public and the selected choreographer will use the space and time for closed rehearsals. The final Sunday session will end with an informal studio showing that will be open to the public from 3:30-4pm.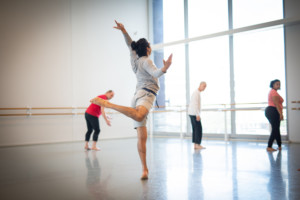 Applications are due Monday, March 2, 2020. All applicants will be notified by March 9, 2020.
Choreographer Eligibility:
– Has a current DSH membership
– Has a history of creating work
– Has a project in development
– Lives and works in the Greater Houston region
– Available on March 29 and April 5, 19 & 26 from 1-4pm
Choreographer Benefits:
– 4 Sunday afternoons (3 hours each) in one of Houston Ballet's studios
– Receive participant fees from March 29 choreography lab
– Exposure through marketing by HB and DSH
Past HIVE choreographers include Brittany Bass, Jacquelyne Boe, Adam Castañeda, Rivkah French, Laura Guttierez, Lydia Hance, Tehillah Hartmann, Nicola Helwig, Gabriela Luna, Felicia Thomas, and Lori Yuill.